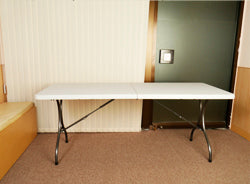 Foldable Table
Pre-order products will be shipped once they are back in stock.
We will contact you with estimate shipping days once you placed your order.
This folding table goes with you when you go. It folds in half, 36"x30"x4", for easy transport and storage. Constructed of high-density polyethylene it is durable and easy to clean.
Size:30"x 72"x 30"
Storage Size:30"x 36"x 4"