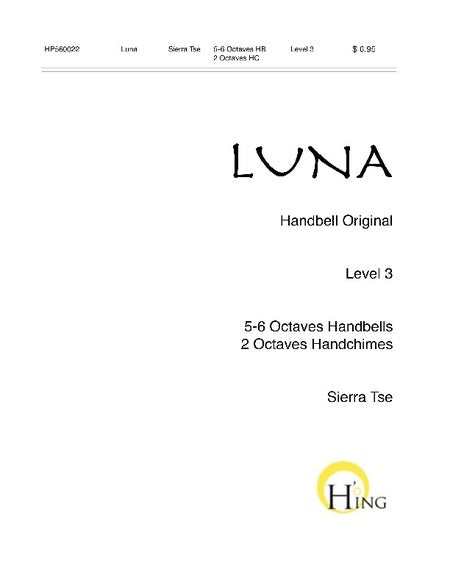 Luna
Copy the below link to see preview of scores on Jeffers Handbell Supply's website!⬇️⬇️⬇️ https://www.handbellworld.com/music/preview.cfm?stocknum=luna
Selected as the Massed-ringing pieces for International Handbell Symposium 2022 in Nashville, USA
Luna is a composition dedicated to mankind, who experienced all kinds of sufferings during the pandemic over the past few years.

Luna is the divine embodiment of the moon. There are plenty of myths and legends about the moon's power. People believe that moonlight brings hope in the darkness. It brightens the darkest corners of the night. Moonlight is the guidance for vulnerable ships sailing on the sea.

Written in Dorian mode, the music possesses a simple tonality. The ostinato harmonic progression and the repetitive syncopation in the bass part symbolize the eternity of the universe. The chant-like melody in bar 5 represents the voice of the Goddess's blessing. The 16th notes pattern at bar 35 represents the light shed upon the earth in a gentle yet vibrant manner. The music grows into a more complex texture in bars 47-74. Various sufferings and wounds are being soothed by the powerful healer. The music ends in tranquility and immerses us in calm and peace.